Sexual conflict in the ontogeny of wing size and shape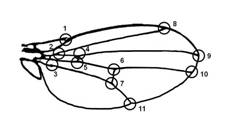 Drosophila melanogaster wing.
This was my first postdoctoral research project. Using populations of flies that had been subject to male-limited (ML) experimental evolution for over 80 generations, we used geometric morphometrics to investigate patterns of phenotypic masculinization in ML flies. We also looked for evidence of increased developmental stability in experimental populations. There was evidence of masculinization of wing size and wing shape in ML flies of both sexes, and increased developmental stability in ML males seems to have resulted in decreased developmental stability in ML females. Interestingly, the allometric relationship between body size and wing size became significantly more masculinized in ML females.
Collaborators: Adam Chippindale, Queen's University, and Stéphanie Bedhomme, IDIBELL Bellvitge Biomedical Research Institute